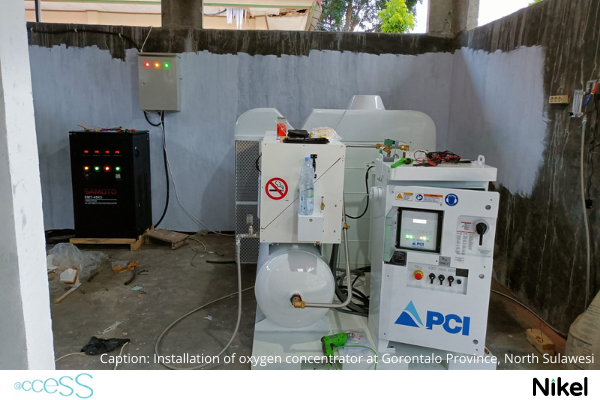 DECEMBER 9, 2021 – PT Access Digital Frontier (Access Digital) and Nikel have partnered to finance the distribution of deployable oxygen concentrator systems during the COVID-19 pandemic. This financing is part of the Indonesian Resilience Fund, managed by Nikel (also known as Impact Credit Solutions) and supported by the U.S. International Development Finance Corporation (DFC), the U.S. Agency for International Development (USAID) and the Australian Government Department of Foreign Affairs and Trade (DFAT).
"We have seen oxygen shortages across many hospitals and healthcare facilities over the last few months", said Reza Maspaitella, Group CEO of Access Digital. "We wanted to do our part to help local communities get through this pandemic and finance oxygen concentrators that are in short supply," he said.
As of third week of November, Indonesia recorded more than 143,000 Covid-19 related deaths, and 4.25 million confirmed cases. While the rate of confirmed cases has declined, the healthcare sector continues to face severe pressure in providing emergency and general care, making financing for vaccines, medical oxygen and patient care more urgent than ever.
"It is critical that we work with purpose-driven partners like Access Digital that have access to key supplies like oxygen concentrators. We hope to continue delivering financing in a timely manner and help Indonesia stay resilient against infectious Covid-19 variants," said Dewi Wiranti, Indonesia Country Head at Nikel.